what in the fuck is that? i don't really remember since we've had less then a week of sun since september long weekend...
but that weekend was kick ass, i went to the island (with a freshly re-torn acl, not kick ass) for the black socks and jogging pants jam. cool kids + amazing setup = kick ass weekend as previously stated. the jam went down at adam's in courtenay. like i said amazing set-up, trails with enough lines, a 6 foot with coping spine and a street spine to it, a sub and a wall (i think, gimme a break i was crippled) a 3footish bowl inside one of the barns with a couple of the bottom corners cut out so you had to carve up and over the chair that were in the holes, rope swings and azip line thing... dialed...... the bowl got a hangover session monday morning, with brad and travis skatin' the shit out of it, and carving up and over the chairs... funny. the jumping was awesome to watch 'cause everyone on the island is local. quite a few doods hanging out, shantz, dusty klatt on a little no throttle bike, beyers, bonar, jeff, ben, and a bunch others, sorry i'm shit with names when i'm stoned and drinking. a few mainlanders as well, jordan and travis "i'm not much of a dirt guy" sexsmith. kid was smooth for a park rider... ha... and a bunch of immigrants from whistler, manu from france, jared and eddie from new zealand, and dub from england... all whistler locals 'cause they're from out of town...jared was sending it and made it through the biggest line that had a 10-12 foot lip and a23-24 foot gap for a last jump... it was a big fucker....yeahhhhhhhhhhhhhhhhhhhhhhhhhhhhh that was fun....
malley lettin' er fly
so for about a month it rained, and it was cold as shit....just in time for the tassie's to show up, heath from davenportcensestun and tassie luke is from launcestensun, perfect timing... and just after luke went to ontario to see his girl we got a burst of sunshine and got a day in on the trails here... radical rick showed up and radituteded the shit out of it!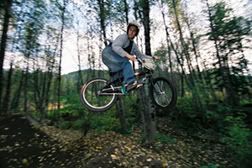 fuck yeah!!!!!!!!!!
fuck off blog, size my pictures properly
me and brad got some bear watching and a bank sesh in the other day too....
bradtableridething
some bears....neat-o
so now it's sunny, i'm sitting at my computer at work waiting for break time so i can go roll around the park... this weekend i'll be off to vancouver to shoot some stuff and do an interview/questionnaire thingy with mr. lajlar, that kid's getting pretty damn good... bastard.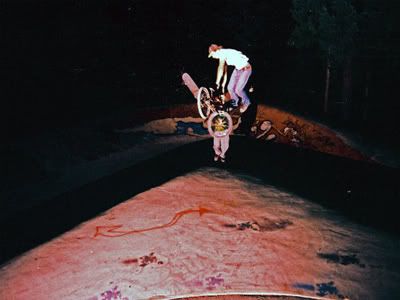 rastafied whip while getting chased out of the "skate"park by crazy ol' nigel...
pic's from the city after the weekend.............go have fun, or else...........